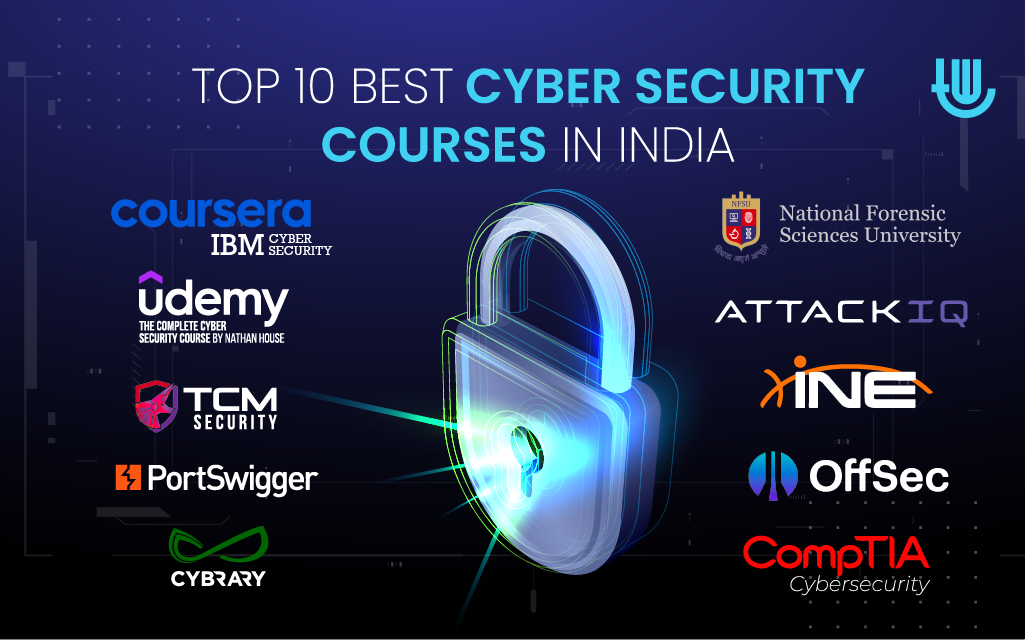 Cyber Security is one of the majorly evolving sectors in India. LinkedIn statistics predict that there is a major shortage of skilled cybersecurity professionals while cybersecurity jobs demand over 40,000 employees. The future market of cybersecurity is predicted to be of the 18.58 billion dollar industry by 2027. However, entering this job field requires an individual to prepare wisely through a certain set of courses- given that there is high competition for good roles. Thus, this article discusses the top 10 best cyber security courses in India.
Top 10 Best Cyber Security Courses in India
Cybersecurity is a big domain, having multiple areas of red teaming, blue teaming, and purple teaming. It involves different sectors and industries dealing in vulnerability assessment, threat modeling, malware analysis, compliance, risk analysis, etc. However, we have curated a list of courses that can help people build a strong foundation to reach an expertise level. Without wasting any more time, let's dive in to read more.
This is a foundational level course for all the areas of cybersecurity that is awarded with a specialization certificate after completion of eight courses. Enrollment has already begun, and one can start learning at their own pace. The course series hosts topics such as data and endpoint protection, intelligence, SIEM, and real-world case studies, to name a few. Overall, someone who is into cybersecurity and wants to get theoretical ideas on other domains must opt for this one.
Cost: Free
The Complete Cyber Security Course by Nathan House From Udemy
Nathan House, in his entire cybersecurity course, has explored different domains of cybersecurity, which target web applications, networks, endpoint protection, and anonymous browsing. While Udemy has a plethora of options to explore, one can rarely find highly recognized and well-received feedback like theirs. Also, with Udemy, the students can enjoy flexible learning options with paced learning.
Cost: Each course ranges around INR 3000. However, Udemy offers heavy discounts on several occasions.
The Cyber Mentor Academy
TCM Security provides multiple services along with live training and certification. Their courses are easy to comprehend, practical implementations and case studies. Courses include basic scripting and programming languages, web and mobile testing, malware analysis and a lot more. Part of their courses are released on YouTube as a trial for students to get an idea. Currently, they have switched to an all-access membership from an individual subscription covering all 17 courses under TCM. Personally recommended!
Cost: The 'All-Access Membership' is priced at 30 USD per month.
PortSwigger
PortSwigger is a free and comprehensive lab-based hands-on training program that covers your web security essentials. It talks about different website vulnerabilities that can be detected and exploited with a tool called 'BurpSuite', which scans, captures, sends, and manipulates requests on a target. Now, also win swags by completing the latest modules on PortSwigger. Just like their training, the course is also free of cost and is one of the best cyber security courses in India.
Cost: Free
Cybersecurity Courses on Cybrary
Cybrary has a variety of courses taught by experienced industry leaders, wherein one can get additional learning content for reputed exams by CompTIA, Cisco, or ISC2. Besides, they also offer new courses on various domains in cybersecurity and offer CEU (Continuing Education Unit), which acknowledges professional skill upgradation. Cybrary has over 3 million users and is one of the most recognized cybersecurity training providers in India.
Cost: Free; however, full access to core learning is priced at approximately 1300 INR per month.
This university offers extensive research and graduation options in digital forensics. Students pursuing criminology or legal professions can also add allied technology to their expertise. They have over ten campuses and offer full-time courses only. The cost is comparatively affordable, considering candidates are getting graduation and post-graduation opportunities from an Indian Government-recognised institute. For Masters, candidates will have to undergo an entrance examination.
Cost: Starting from INR 20,000 for diploma courses and can range up to INR 90,000.
AttackIQ Academy
AttackIQ academy primarily focuses on Cybersecurity defenders, where one can choose their preferred learning paths by roles, skills, subjects, instructors, etc. The best part is all the courses are free of cost. Once a course is completed, students can proceed to take final exams in two attempts to get a CPE credit. Most of the AttackIQ courses are focused on the MITRE attack framework, which is an open-source library of APT groups. These modules are the blue teaming and purple teaming sides of cybersecurity.
Cost: Free
INE
The best part of reviewing every module in INE is that it also offers external course aggregations based on expertise level from reputed cybersecurity training vendors such as Amazon, CompTIA, Cisco, Google, and Offensive Security. Additionally, it provides in-house courses that are very well recognized amongst recruiters and sometimes have that as a preferred requirement during hirings. Courses by INE's eLearnSecurity are eJPT, eCPPT, eMAPT, eWPT, eWPTX, eCTHP, and many more. They cover almost every domain of cybersecurity, such as web and mobile testing, forensics, threat hunting, etc.
Cost: The courses are priced starting from 300 USD.
Offensive Security Courses
Training and certifications from Offensive Security are highly recommended and recognized, encouraging various security enthusiasts to get certified across the globe. Their training is divided into five modules, namely Penetration Testing, Web Application, Exploit Development, Security Operations, and Fundamental Courses, covering almost everything to skill up and gain exposure to advanced concepts. One can subscribe to their year-long package, providing access to programs to experience hands-on training and examination vouchers.
Cost: Starts at 799 USD for fundamentals. Other includes a one-time payment of 1599 USD for bundles. One should check their discount section for final pricing.
CompTIA Cybersecurity Courses
CompTIA offers over 15 courses divided into three categories that lay the foundation for cybersecurity, advanced level courses, and certifications to supplement the current professional expertise. While they are a little costly, this organization is a globally renowned vendor for cybersecurity certifications. Some jobs even mention training from candidates as an eligibility requirement. Post-training, which includes e-learning or online training, students can opt for an in-person or online examination consisting of 90 questions to be answered in 90 minutes.
Cost: Varies but normally starts at 400 USD.
Towards the Conclusion
The cybersecurity domain is a wide and largely skill-dependent industry. People enthusiastic about entering this domain and the ones already in the domain constantly need to keep themselves upgraded with new technologies. That being said, there are definitely more courses that can enable you to upskill and gain expertise. However, the above-mentioned are in demand for all three aspects of security– the red, purple, and blue teaming. We hope you liked our article on the top 10 best cyber security courses in India. Do let us know what you think in the comments.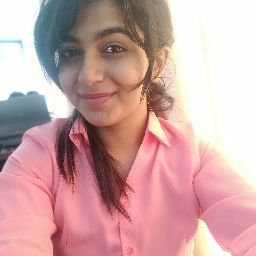 Author Bio: This article has been written by Rishika Desai, B.Tech Computer Engineering graduate with 9.57 CGPA from Vishwakarma Institute of Information Technology (VIIT), Pune. Currently works as Cyber Threat Researcher at CloudSEK. She is a good dancer, poet and a writer. Animal love engulfs her heart and content writing comprises her present. You can follow Rishika on Twitter at @ich_rish99.
---
You May Also Like